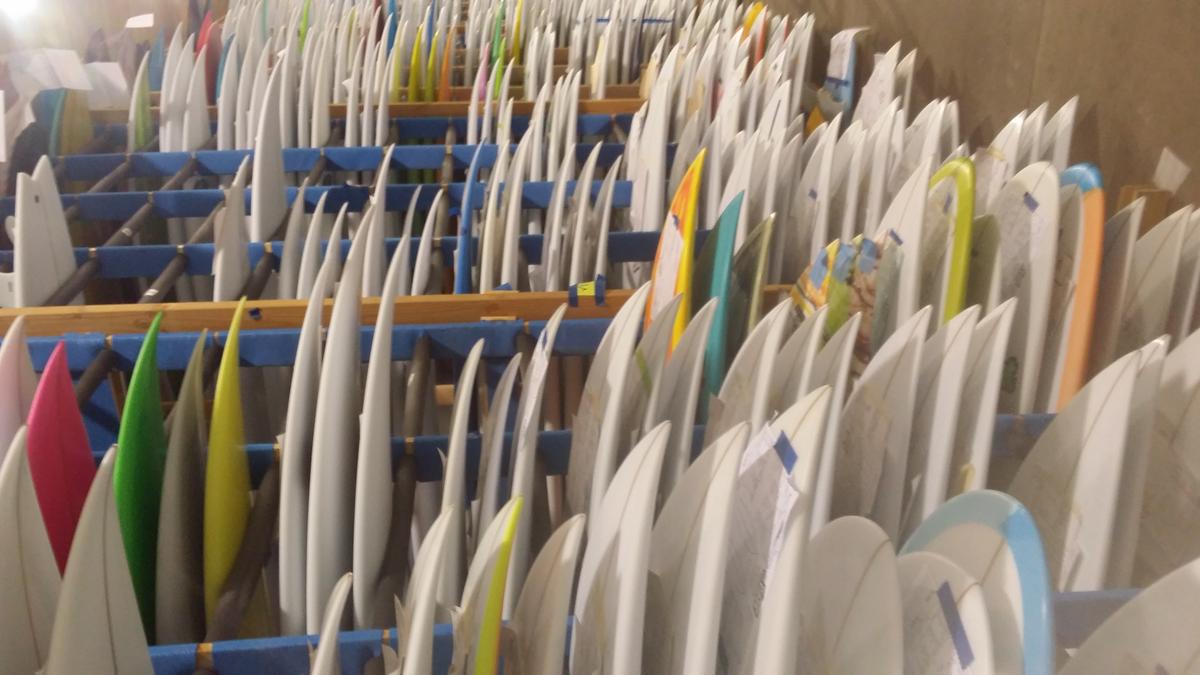 I spent the last week in Southern California mainly just trying to avoid the freezing cold here, but I was able to go spend some time at ...Lost Surfboards seeing the latest and greatest surfboard models for 2015 and beyond. There are some really cool boards and technologies coming down the pipe that probably won't be available to the general public until 2016. Enough about that let's talk about what is available now for 2015. The three new models that stood at to me the most were the Puddle Jumper, the Short Round, and the V2 Grinder.
...Lost Surfboards has been the leading the way with small to average wave designs for the "domesticated" or average surfer for the last couple of years and Puddle Jumper takes that development to another level. While most of the Bottom Feeder, Planks or RV designs offer great drive and speed they sometimes lack the ability to surf top to bottom in small waves. Their vee bottoms make them easy to get rail to rail but they stick to the water and don't like to release in top turns. The Puddle Jumper has a concave bottom that keeps the board on top of the water and allows for more raill rocker to still give you that easy rail to rail feel while not being stuck to the water. This in turns allows you to snap your turns and fit in the pocket of small waves better. For me this is going to be THE go to board for summer here on the east coast where the waves are small and short. The RV's Planks and Bottom Feeders work great in small California(ie upper trestles where Matt surfs and built these designs for) surf but for most East Coast conditions the Puddle Jumper will be a better fit. East Coast swells are short period and closer together also we dont have the points to groom the swells. Most everything over here are beach breaks that are short and fast. You don't have the time to draw out turns and project past sections. It is more like one or two quick pumps and then one turn in the closeout section or where the wave shoulders out to nothing. The Puddle Jumper has a wide outline to get you into the wave, its concave bottom creates the lift to get you up to speed quickly and the more foiled out thinner rails along with the added rail rocker give you the ability to use that speed to do tight radius turns in those closeout or shoulder sections. This will be my go to summertime board probably for anything stomach high and under.
The Short Round from ...Lost Surfboards provides a versatile board that can be ridden in just about any conditions. With a deep single concave under your front foot along with a pretty low entry rocker the Short Round has instant speed and drive. A more tradition outline in the tail that pulls in the tail more giving it less volume so you are able to sink the tail and create more hold than that of a rocket or other small wave designs. I always hate it when I'm riding a fish in small waves and that freak set of the day comes in and you can't turn your board like you want cause either you have too much speed that you cant wipe off or your tail lacks that hold if you really push on it. I feel like I'm wasting a good wave because you just cant do what you want because your board limits your surfing. With the Short Round you won't ever face this problem as it works just as good on those freak sets as it does in the 2' slop. To me the Short Round is a more perfomance version of a Rocket. I think this will probably be ...Lost's best selling model for 2015. The early feed back from their team riders as well as the average surfer all say it's a great board. The only other boards to get the same type of feed back from all levels of surfers were the Round Nose Fish and the Rocket and we all know how well those boards work.
The V2 Grinder from Lost Surfboards is a small wave pointed nose shortboard. Alot of surfers just cant get there head around riding a board with a fuller more rounded nose outline. The fuller nose outline can stick in some situations and sometimes don't fit as well as more pointed nose designs. This is where the V2 Grinder comes in. The V2 Shortboard has been the most popular shortboard design from ...Lost Surfboards the last couple of years. It is a great design for good waves, Lost has taken this concept and squashed it down for smaller more average surf. Short-Wide with tons of Glide as Matt says, the V2 Grinder has a really low entry rocker to get the board moving and maintain speed. The wide tail block keeps the board on top of the water while the added tail lift enables you to pull most of the board off the water when needed on those tight radius turns in the pocket. This is a great alternative to riding the more rounded nose outline models and is much easier to go back to your performance shortboard. For me after riding a Rocket for a while it can feel really weird getting back on a pointed nose short board when the surf gets good. It takes a few waves to get the feeling back to normal. The V2 grinder allows to have a board that works in small to medium surf without changing that feel. This model has been a favorite of the pros for small wave contests as well. For most East Coast conditons this will be the go to shortboard.
We will be stocking a full size run of these models as well as the other classic designs from Lost Surfboards. If you are like me and the stock dimensions don't really work for you we can custom order one from Lost that will be exactly what you are looking for. If you don't know what size will work for your size, skill level, or local break give us a call or email and we can help you figure that out. Our Volume Calculator tool can help as well.
Now we just need the frozen tundra which the east coast has become to thaw out some so we can go ride some of these new boards without running into some icebergs or seals.